My tutor didn't feel that a re-edit would be particularly fruitful on this assignment but suggested that the work of David Moore, Frederick Evans and Peter Marlowe may be usefully studied along with Jem Southam and Paul Seawright among others.
David Moore (UK, b?)
The Last Things

"I don't understand how you've got this far" MoD official,

Between September 2006 and April 2007, supported by Arts Council of England, David Moore worked in a secure military location below ground in central London. This space will be used as the first port of call in any situation where the safety of the country is under threat. The Ministry of Defence allowed David Moore an unprecedented level of access which has enabled him to observe a live working space, continuously on standby, and fully prepared for the most extreme national emergency. The Last Things develops ideas about the institutions of government and the manifestations of power first seen in The Commons (Velvet Press 2004). " David Moore: The Last Things. http://www.davidmoore.uk.com/words/diarylastthings (accessed June 19, 2017).
David Moore photographed his project "The Last Things" in a very flat, matter-of-fact style which belies the dramatic purpose of his subject. The very normality of the approach serves to emphasise the enormity of the circumstances under which this facility (and presumably others like it) would be put to use. The facility is all about people and the protection it aims to provide for them, but Moore's images are distinctly unoccupied; this allows the grim quotidian fixtures and fittings to speak for themselves.
Although the quote above refers to the images demonstrating manifestations of power it may be thought that they actually show a deep vulnerability, the extent to which defences, materials and systems may be required to preserve life.
Frederick Evans (UK 1853-1943)
Evans photographed mainly architectural subjects and was at pains to maintain a straight, unmodified print:
"Profoundly dedicated to pure photography, he never altered the printing of negatives for aesthetic effects; rather, the eloquence of his images comes from his ability to capture the supremely expressive viewpoint at the most telling moment of light and shadow." Philadelphia Museum of Art . http://www.philamuseum.org/collections/permanent/66293.html (accessed June 19, 2017).
"A Sea of Steps," Wells Cathedral, Stairs to Chapter House and Bridge to Vicar's Close Frederick H. Evans
The light in this part of the building is astonishingly delicate and graduated. Evans would have been using a large format camera with full movements to allow for a sympathetic rendering of this scene in accordance with his vision – itself a 'manipulation' but one with which Evans must have felt comfortable.
Peter Marlow (UK 1952-2016)
Marlow's series 'the english cathedral' adopts a fixed and repeated viewpoint for each image. In every case he sets the shot up to look down the knave to the chancel, using a wide angle lens (presumably with view camera movements to correct perspective distortions) to include the gospel and epistle sides along with the roof rafters ( I had to google all that!)
It has some of the features of the Bechers' typologies but the grandeur and intricacy of these interiors prevents them from assuming any kind of humble functionality. The forms are concealed by the shear density of adornment.
Jem Southam (UK 1950)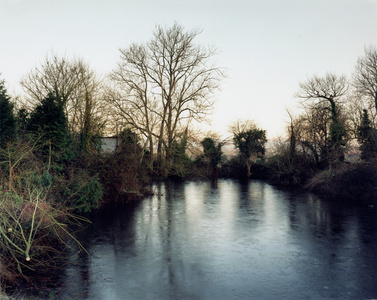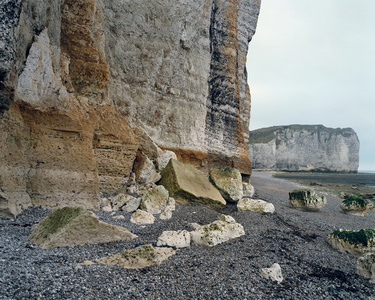 "Photographer Jem Southam makes rural landscape images that document man's intervention in nature. Photographing the same locations over months and years with a large format camera, Southam records transitions as they unfold. In "The Pond at Upton Pyne" series, taken from 1996 to 2001, Southam captures the maintenance and neglect of a pond that was once a manganese mine in the 1700s. More recently, Southam has photographed the cliffs of the English Channel in majestic large-scale works like Senneville-sur-Fecamp, April 2006 (2006)."

Artsy. https://www.artsy.net/artwork/jem-southam-vaucottes-november-2005 (accessed June 19, 2017).
I have difficulty connecting with this kind of work and Southam's offerings are no exception. I can see the point – the slightly incongruous evidence of human intervention in the small details, the imposter materials in the bucolic landscape but the 'majesty' of it eludes me. I find them utterly unengaging, but perhaps they need to be seen for real as large scale versions. There is an almost autistic element to work which is executed on large format negatives over a five year period, featuring a single pond. I think that's it in the middle, above.
The absence of a consensus about how best to appreciate deadpan photography has not hindered its dominance. For many young photographers, particularly on BA and MA courses in the 2000s, the set of variables modelled by Düsseldorf photographers appears to be a fail-proof formula; simply choose a subject (preferably something that comes in many variations) and shoot a taxonomy
using a uniform composition and immaculate technique. Instant art! Some critics and historians would argue that it is in perfecting a formula – both formal and conceptual – that a photographer establishes the rigor and relevance of their project. Others would say that work in this vein is so monotonous, predictable and static that it is just plain dull.
Lucy Soutter Why Art Photography? (Routledge 2013)
I would suggest that the formula Soutter identifies along with whatever rigor and relevance it confers is a perfectly valid process but often it still results in 'plain dull'. I hope that as I progress through the course I will become more enlightened and appreciate photography such as this more fully.
Paul Seawright
"Belfast – Produced during a two month residency at the Irish Museum of Modern Art in 1997. Seawright returned to Belfast to make work about locally produced defensive architecture on the edges of housing projects in North and West Belfast during the early stages of the ceasefire."

Belfast — Paul Seawright. http://www.paulseawright.com/belfast/ (accessed June 19, 2017).
Thematic photography which documents a certain aspect of the built environment; it's gritty, factual and offers an interesting commentary on the way that the normal use of buildings becomes subverted by untoward circumstances.
In the series "Police Force" Seawright adopts a similar approach to David Moore in his work above, showing the bland deterioration of items and fixtures found in RUC operational premises. It's unavoidable to contrast the content of these pictures with the drama and intensity of the events in which they played a peripheral part.
Reflection
Looking at this work and considering my own in this part of EYV I have noticed how the connections begin to form. No work is produced in a vacuum and each individual image takes its place in the photographic firmament. Some images appear isolated and others are easily placed in galaxies which share common characteristics. It seems possible that they will all make a contribution no matter how small, even if their significance is appreciated only by their maker.
Learning about the process employed by other practitioners is very interesting – how it got there is sometimes more relevant than how it ended up.