I attended a weekend workshop at the National Portrait Gallery, led by Kate Peters around the theme of 'mask' and 'disguise', in conjunction with an exhibition called Gillian Wearing & Claude Cahun: Behind the mask, another mask.
Gillian Wearing makes extensive use of prosthetic masks to produce images which show an real person – herself – presenting as a different person, usually a family member or an acquaintance. The masks she uses have developed over time from simple and somewhat primitive to very expensive and sophisticated. In each image, the only real visible facial feature are the eyes.
Wearing has made this approach her own and has produced a wide range of work using the technique. She has always used herself as the subject, for example in a large series of polaroids taken over a period covering her late teens. They are the printed version of the modern 'selfie' but with less face-pulling.
My personal response to the majority of her later work is mixed. While the early work was innovative and fresh I feel that the continued use of the mask device does little to advance and explore her photography. Her earlier self portraits seem to have more authenticity and less artifice, perhaps because they were the work of a younger, less well-formed artist. The connection between Wearing and Cahun is rather more tenuous than might first appear; I bow to the curatorial experience of the NPG but having put some time into reading about Cahun and Wearing I think that apart from the superficial similarity of some aspects of their work they have little in common. Perhaps that was never the purpose of the exhibition.
Claude Cahun (her birth name was Lucy Schwob) met her lifelong partner and artistic collaborator Marcel Moore (born Suzanne Malherbe) at age 15; Moore was three years older and they were together until Cahun's death in 1954 at the age of 64. Virtually all of Cahun's photographic output featured just Cahun herself, though Moore is occasionally in shot either as a figure or a shadow. It seems reasonable to suppose, given their shared artistic interests, that Moore was actively involved in contriving the images, indeed many appear to require an assistant to make the actual exposure. Wearing's collaborations seem to extend only to engaging the professional services of prosthetic mask makers.
Both Cahun and Moore were deeply influenced by their personal, artistic and social circumstances. It is generally accepted that they had a lesbian relationship and it is known that Cahun rejected the wealthy Jewish background into which she had been born. She was associated with the nascent Surrealist movement but was not accepted into their circle until her first and only exhibition in 1932. Their departure from Paris to Jersey was precipitated by the rise of Nazism and anti-Semitism, ideologies to which they were both vehemently opposed. They continued their passionate resistance to the German occupation of Jersey by placing subversive notes into soldiers' pockets and vehicles, a scheme which resulted in capture and imprisonment until the liberation of the island in May 1945. Incarceration took a heavy toll on Cahun's health and she never fully recovered.
Cahun explored her ideas about gender representation through her work, a theme which I suspect was underpinned by her own sexual orientation. Although she is now known as a photographer she was recognised in her time as an author; her photographs were, in the main, never intended for public consumption and although captioned in books and exhibitions as 'self portraits' she herself did not title her work. In these, as in so many respects, her artistic processes and influences share very little with those of Gillian Wearing.
Work of Claude Cahun & Marcel Moore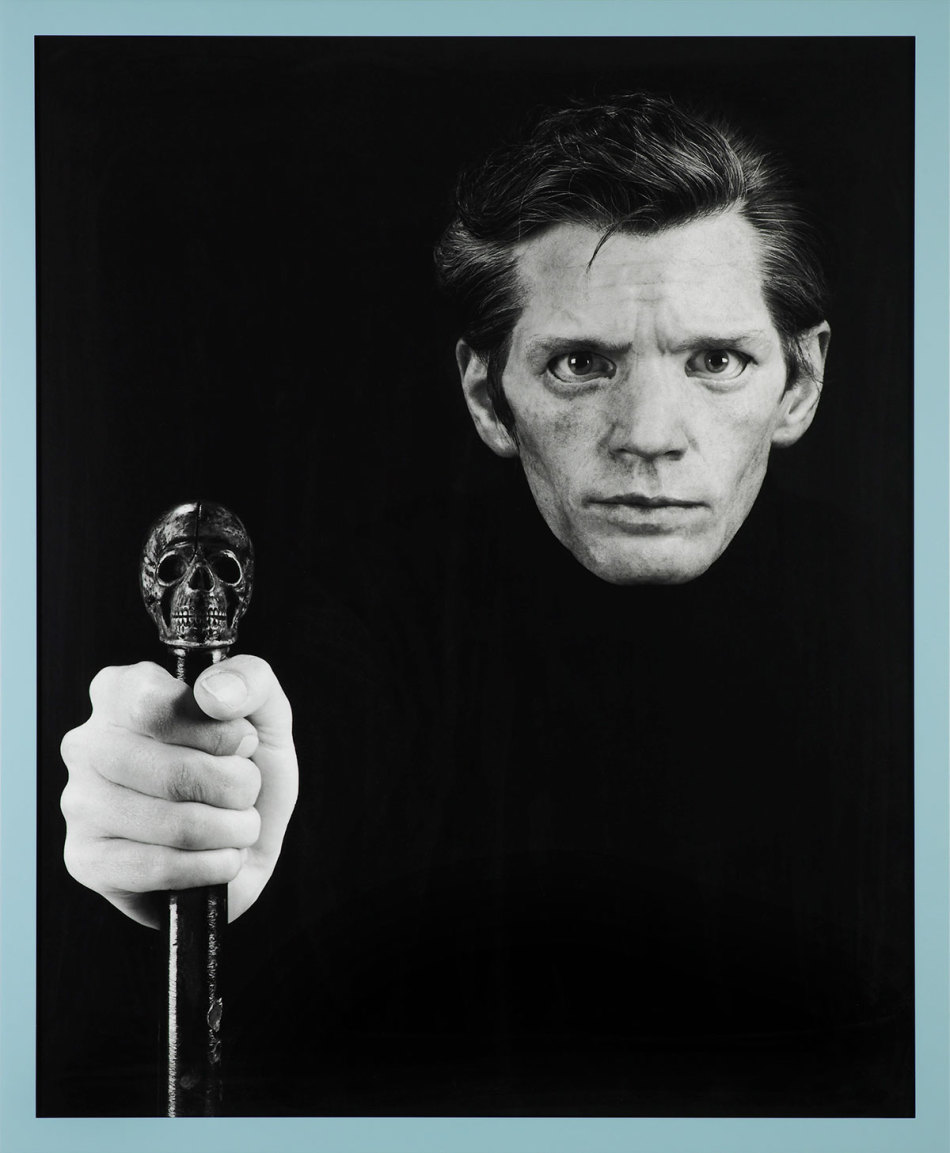 Work of Gillian Wearing
In the NPG exhibition one is confronted with the substantial differences in the scale of the prints. Cahun's work is tiny, no more than half postcard size and seems to be contact prints from roll film negatives. There is an intimacy of scale here, the images are all monochrome and because of their size it is necessary to view them up close – they invite near examination and as a result they establish a proximal relationship with the viewer. Wearing's work, on the other hand, is many times larger and lacks the modesty implicit in Cahun's prints and it is necessary to stand a good distance off to see them comfortably.
The two-day workshop comprised eleven attendees of mixed ages and experience. I was pleased to meet another OCA BA Photography student there! Following introductions and a tour of the exhibition we set about constructing and photographing our own 'masks and disguises'. We used Fuji instant film to produce prints, then bleaching the backing part of the peel-away to obtain a scannable negative. We also made digital photographs of the work, printed instantly on a little Canon Selphy printer.
The following day we were assigned the task of making digital street portraits with a 'film' limitation – LCD viewfinder turned off or blanked (no chimping) and only twenty shots allowed. The challenge of approaching strangers was made somewhat easier by working in mixed M/F pairs although the sunny warm weather and the words 'for the National Portrait Gallery' probably helped. Those we approached were happy to be photographed. My co-photographer had the foresight to bring some business cards which helped with the interactions. I must get some made myself.
In the afternoon we were able to use Kate's own equipment and lighting to photograph each other and a model provided by the gallery. This was a good opportunity to observe how an accomplished practitioner approaches portraiture in natural and artificial light. I learned a great deal from the workshop:
Cahun and Moore's lives as collaborative photographers
Wearing's career path and development
Interacting with other workshop attendees and learning from their varied experience and approaches
Studio techniques with natural and artificial light
Alternative instant film processes
Tethered photography with medium format cameras and digital back
Approaching strangers for portraits in the street